Refurbishment
Refurbish your old pool
An old leaking concrete pool can be like new again using the latest technology and equipment. Invarmex renovates old leaking concrete pools by cladding them internally with stainless steel – fully welded sheet steel. An unbeatable sealing method that fits all pools regardless of shape and size.

About refurbishment
Your old pool can be like new again.
Modernisation according to the European norm
Invarmex steel refurbishment provides you with a completely watertight pool for the foreseeable future, and at the same time there are opportunities for modernising the pool with floor inlets and overflow gutters, which are today the European norm. We design the pool in accordance with your wishes. Then we manufacture it and assemble everything on-site. This means that it's fast, there's less disruption and you only have to close for a short time while the work is going on. At the same time, we can augment with everything from ladders, stairs, lighting and other peripheral equipment.
Suitable for all pools
In principle, all pools can be steel-refurbished, including rectangular swimming and diving pools and free-form adventure pools. There is also no limitation on the size of the pool. Invarmex has renovated one of Europe's largest outdoor pools, the London Lido. We can also supplement with everything from height-adjustable floors and lifts, to wave machines and sports attractions.
One of Scandinavia's biggest workshops
Several years ago, Invarmex became part of the Nitator Stainless Group – one of Sweden's leading manufacturers of stainless steel materials and specialists in customer-unique solutions. The workshop is one of the largest in the Nordic region.
Facts
Benefits of steel refurbishment
Unbeatable watertightness
Old technology replaced with new
Brief closing time
Customisable
Flexible and malleable
Economical
Less maintenance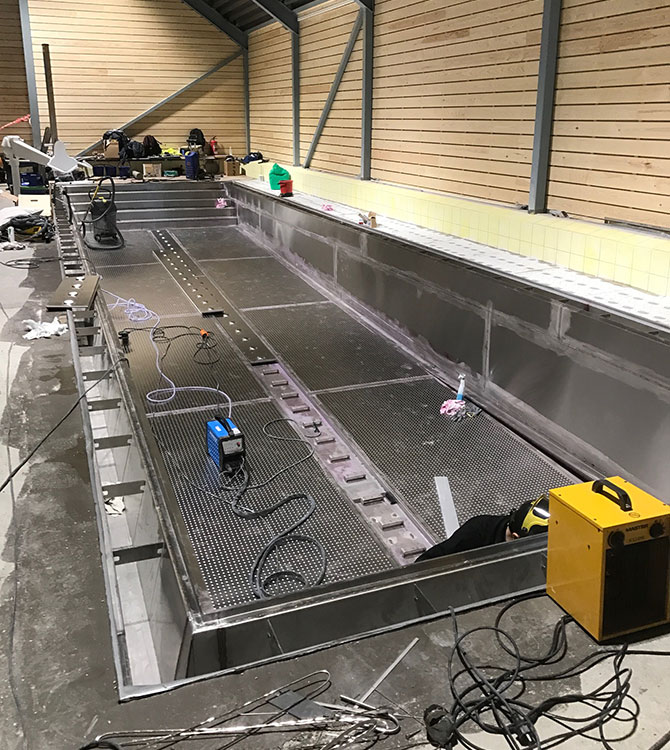 Karlskoga simhall
Renovation of the diving pool
Size: 25 x 10 x 1.2/3.8m.
Existing water surface was raised to floor level and the pool floor raised accordingly.
The walls were retained while the pool itself was fitted with a new overflow drain, a new floor and new standing shelving on three sides.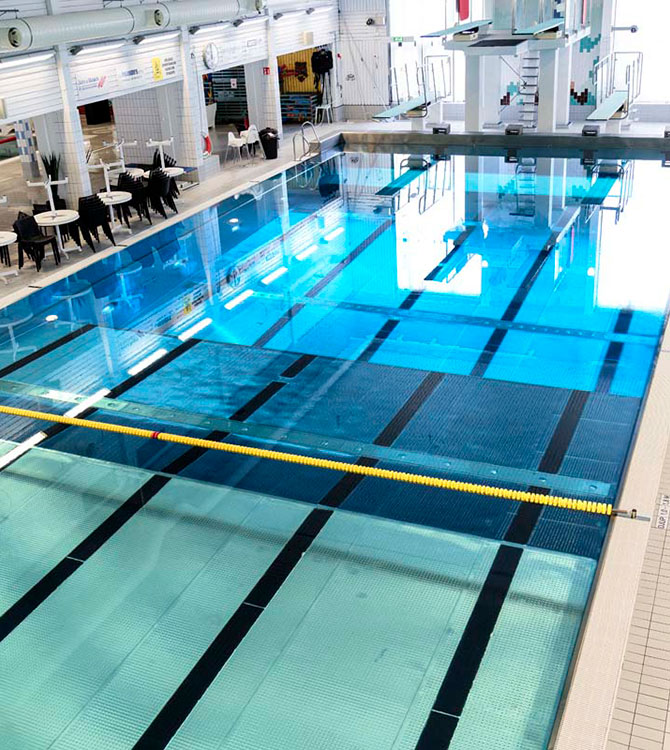 Thanks! Your message has been sent. We will return to you as soon as we can!